I love making lists: grocery lists, packing lists, shopping lists, to-do lists.
Back in the day, lists were all about pen and paper. Now they live on our computers and smartphones, which makes it so easy to move things to the next day or the next day or the next…but hey, let's talk about procrastination another time.
The Bible has lists too. The fruit of the Spirit (Galatians 5:22-23) , the Beatitudes (Matthew 5:1-12), the gifts of the Spirit (1 Corinthians 12:7-11). And, of course, the Ten Commandments (Exodus 20:3-17).
The Big Ten are mostly "You shall not," and for good reason. God was laying down the Law. It's a sobering list for this Former Bad Girl who broke all but one of His divine commandments. Am I grateful for His grace? Every minute of every day.
Over in the New Testament I discovered a different kind of Top Ten: the One Anothers. They're all positive, proactive, productive….and yes, possible through the power of the Holy Spirit. Imagine what might happen in our homes and churches and communities if we started following this list.
1. "Love one another." John 13:34
Agapaó in Greek. Love in any language. Not romantic love or physical love, but a love wrapped in respect and esteem. This isn't something we merely feel. It's something we actively do.
2. "Accept one another." Romans 15:7
Just as Christ accepted us, we're to make other believers "welcome" (CEB), to take them along side us, to "receive" (ASV) them as brothers and sisters, as blood relatives, because they are.
3. "Live in harmony with one another." Romans 12:16
Harmony doesn't mean singing the same note. It means singing different notes at the same time to create a harmonious sound. The Lord calls us to "consider everyone as equal" (CEB) and to "live together in peace" (ERV). Remember the old song, "Let there be peace on earth, and let it begin with me"? Right. That.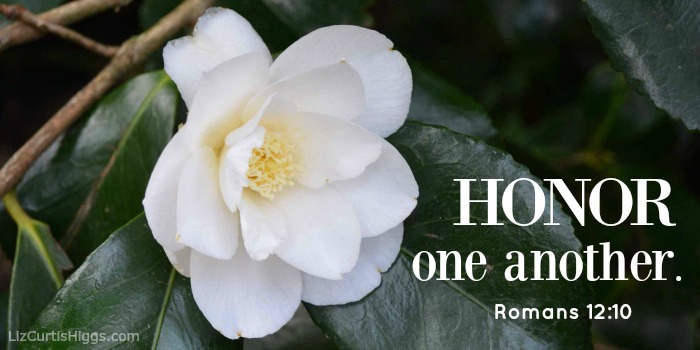 4. "Honor one another above yourselves." Romans 12:10
Okay, this one is harder, since it goes against our all-too-human nature. It takes humility to give others "more honor than you give yourself (ERV) and to "excel in showing respect" (GW). How do we get there? We "practice playing second fiddle" (MSG), content to let someone else take a bow.
5. "Instruct one another." Romans 15:14
Yes, we're called to "teach" (CEB) one other, but the original Greek goes deeper. It means "admonish, exhort, warn." We are charged with "advising one another" (MSG) and "keeping each other on the right road" (Phillips). Not by guilt-tripping, but by guiding. Not by criticizing, but by counseling. "Speaking the truth in love" (Ephesians 4:15), we can help one another grow.
6. "Be kind and compassionate to one another." Ephesians 4:32
We may laugh at the overused phrase "I feel your pain," but that's what compassionate people do. They're "tenderhearted" (AMP) and "forgiving" (NLT). They feel viscerally and they care deeply.
7. "Offer hospitality to one another." 1 Peter 4:9
I'm not a Martha. Not even close. But for God's people, hospitality isn't a suggestion; it's a commission. Do it. "Practice" (AMPC) until you can "welcome one another into your homes without grumbling" (CJB). Hospitality isn't about what you serve; it's about who you serve.
8. "Spur one another on toward love and good deeds." Hebrews 10:24
In the same way spurs can get a horse moving, we're called to jab each other until we do the right thing. For some of us, "charity" (DRA) doesn't come naturally. We need a little motivation—even provocation—to get on with our "helpful deeds and noble activities" (AMPC).
9. "Submit to one another." Ephesians 5:21
Don't let that word submit throw you. It's a mutual thing, meant for everyone, and done "out of reverence for the Messiah" (ISV). When we "obey each other" (ICB), when we are "courteously reverent" (MSG) and "put others first" (CEV), we honor our sovereign King.
10. "Encourage one another daily." Hebrews 3:13
In Greek, parakaleó paints a vivid picture of someone who walks close beside you and calls out encouraging words—while you do the same. Together you "admonish, urge" (AMPC), and "keep each other on your toes" (MSG). Not just occasionally, but "every day…as long as there is still time" (NIRV). There's still time, beloved. Let's spend it well.
Lord Jesus, please write these commandments on the tablets of our hearts. Enable us not only to remember them, but also to do them. Let Your love be our motivation and Your Word be our constant inspiration.

In May we did a lovely giveaway. Our friends at DaySpring created an easy way to encourage one another daily with two dozen greeting cards for every occasion. I bought a box for myself and loved it so much, I bought five to share with you!

We chose five winners at random: Kimberly, Tessa, Kari, Elaine, and Kim. Congrats to all!
Until next time, bless you for giving me the joy of opening God's Word with you.
Your sister, Liz
Twitter     Facebook     Pinterest 
Coming up on my calendar:
May: Tours of the Villages and Abbeys of the Scottish Lowlands
June: Speaking at the New England Christian Writers Retreat
July: A beautiful new edition of Really Bad Girls of the Bible